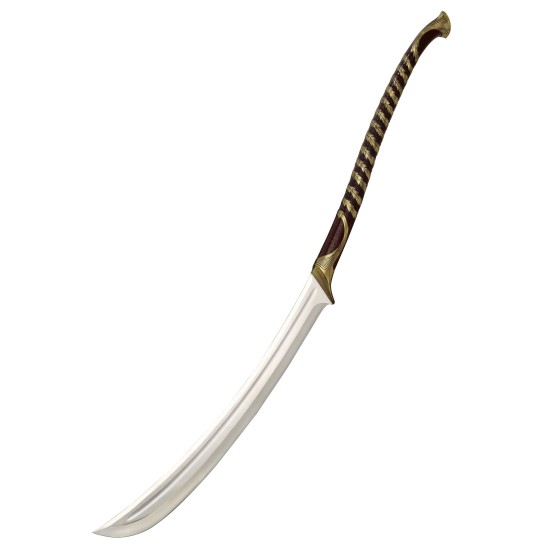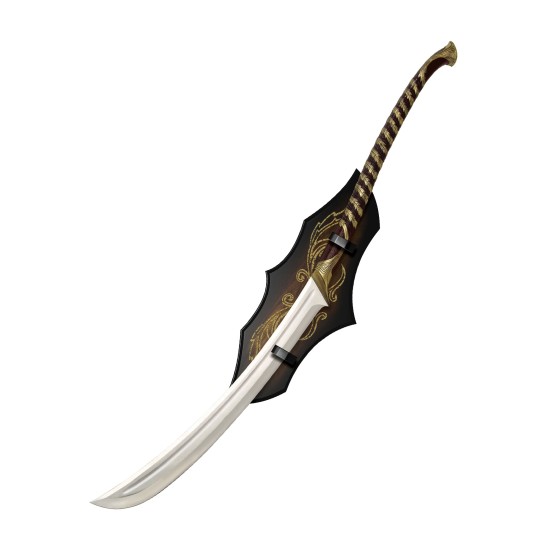 New -15 %


Narsil, the Sword of Elendil - Lord of the Rings
Lord of the Rings - High Elven Warrior Sword
Officially licensed movie replica from The Lord of the Rings, by United Cutlery
An ancient human-like race of Middle-Earth, Elves are noble, elegant and magical beings in harmony with the natural world and its forces. Elves have clearer perception and more heightened awareness than humans, which was a valuable aid when Gil-galad, the last High King of the Noldor, joined Elendil, King of Gondor, to create the Last Alliance of Elves and Men in order to defeat the evil Sauron and his legion of orcs. The army of the Last Alliance won the Battle of Dagorlad. Then, on the slopes of Mount Doom (Orodruin), despite heavy losses, the Alliance managed to drive Sauron's forces back.
This officially licensed and superb quality reproduction item is an exact replica of the High Elven warrior sword that appears in the opening battle sequence of The Lord of the Rings movie trilogy. United Cutlery, industry leader in fine movie reproductions, has meticulously recreated the actual prop sword using only the finest grade materials and craftsmanship. Close attention to detail was a top priority.
Measuring approx. 126 cm overall, this elegant sword features an approx. 61 cm long, tempered 420 stainless steel blade. The cast metal handle offers a faux leather grip accented with brass-plated Elven vine designs. This item includes a wooden display plaque with silkscreen design and a certificate of authenticity.
Details:
- Blade material: tempered 420 J2 stainless steel
- Handle material: cast metal with faux leather wrapping and brass-plated details
- Overall length: approx. 126.4 cm
- Blade length: approx. 61 cm
- Blade thickness: approx. 4 mm
- Wooden display plaque (approx. 58 x 23 x 2 cm) with silkscreen design
- Certificate of authenticity
Stock:

In Stock

Model:

2570

SKU:

UC1373