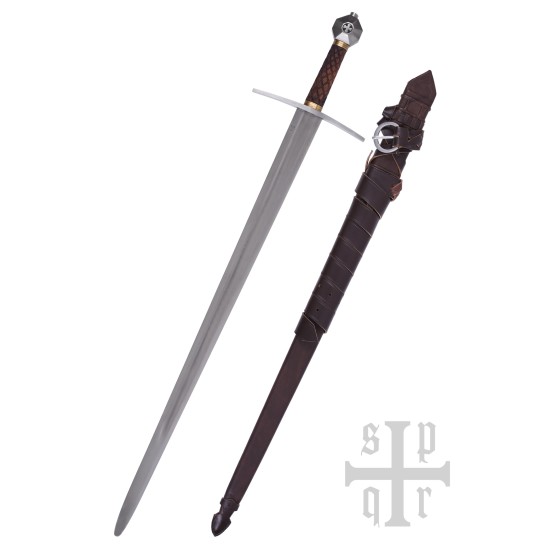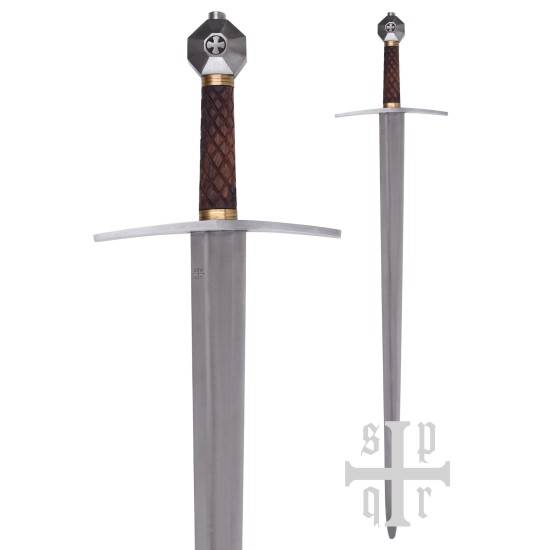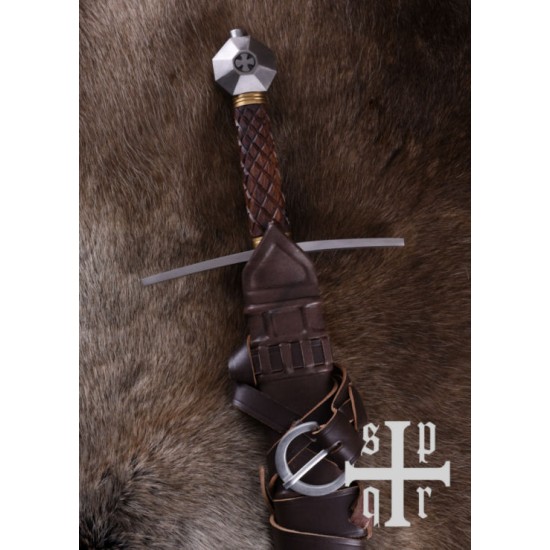 New -19 % Unavailable



Medieval sword Oakeshott - SK-B sword
Medieval one-handed sword Oakeshott type XIIa with scabbard, 13th century
Suitable for show fights, SK-B
This beautiful one-handed sword is based on a sword that is attributed to Konrad von Thuringia, Grand Master of the Teutonic Knights from 1239 to 1240. The original piece, classified as Type XIIa according to the Oakeshott typology, can be admired in the German Historical Museum in Berlin.
This interpretation has a hardened spring steel blade tempered to approx. 48-50 HRC. It is forged through to the pommel and riveted (not screwed) to the end of the handle. The steel crossguard is slightly curved towards the blade and the beautiful wooden handle is decorated with a diamond-shaped carving and brass rings.
The medieval sword ends with a strong, octagonal steel pommel with a cross motif on both sides. The beautiful wooden core scabbard is covered in leather and finished with a carrying strap that wraps around the scabbard.
With its blunt, 2 mm thick striking edges and its rounded tip, this high medieval knight's sword is perfect for re-enactment, exhibition combat or sparring.
Details:
- Show fight quality class: SK-B
Find out more about our exhibition fight classification
- Blade material: spring steel, heat treated
- Rockwell hardness of the blade: approx. 48-50 HRC
- Handle material: wood, brass bands, steel pommel and guard
- Total length: approx. 100 cm
- Blade length: approx. 81 cm
- Handle length: approx. 19 cm (handle section approx. 13 cm)
- Blade width at guard: approx. 5 cm
- Blade thickness: approx. 2 mm
- Center of gravity: approx. 12.5 cm in front of the guard
- Weight: approx. 1.4 kg (approx. 2 kg with sheath)
- Leather covered wooden scabbard with strap
Stock:

Unavailable

Model:

2611

SKU:

0164000252