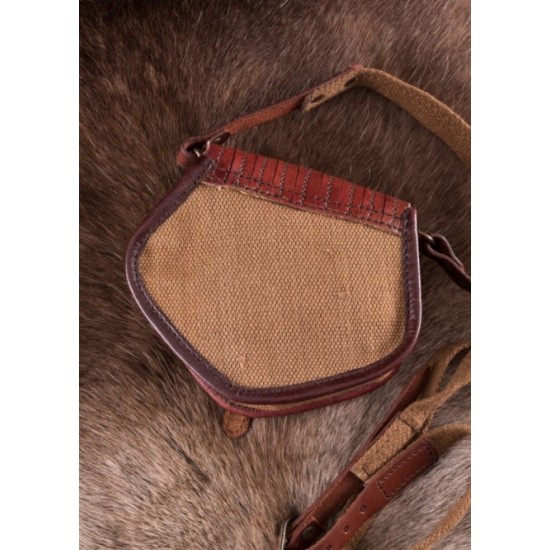 New

Viking style bag
Viking style bag, leather and canvas
This beautiful Viking Age bag in the shape of a pentagon is made of robust cotton canvas (sailcloth). The edges and front flap are beautifully reinforced with sturdy stitched leather (in two shades). A special highlight are the seams and brass rivets that adorn the flap and make the medieval bag a real eye-catcher. The bag is unlined and closes with an adjustable buckle closure (brass buckle, leather strap).
The approx. 2 cm wide, length-adjustable shoulder strap also consists of canvas and leather elements, which are firmly connected with strong seams and rivets. With a total length of approx. 1.4 m, this strap is long enough to carry the bag both as a shoulder bag and as a crossover bag (across the upper body).
This Viking bag is suitable for both men and women. Not only in the early Middle Ages, but also throughout the Middle Ages, bags and shoulder bags were used equally by women and men. They were more of a commodity than just a fashion accessory and were used to store and conveniently carry everything you needed on the go in everyday life and at work.
Although this medieval handbag is not a reconstruction of an archaeological find, it is based on historical models. It is a great addition to your historical garb and an ideal accessory to store coins, potion bottles, small notebooks, etc. (or the modern belongings you need on site) at medieval markets as well as reenactment, living history or LARP events could cleverly hide). Of course, this shoulder bag is also perfect for today's everyday life.
Please note:
As this canvas and leather bag is made by hand, no two are alike and the images above are for illustrative purposes only. Since leather is a natural product, minor deviations in color and/or grain are quite normal. In addition, the surface structure of the canvas fabric may have slight unevenness due to production. Such "imperfections" are not defects or grounds for complaint. They give the product a piece of authenticity and make each individual bag truly unique.
Details:
- Material: canvas (100% cotton), red / maroon leather, brass fittings with antique finish
- Height: approx. 15 cm
- Max. width: approx. 16.5 cm
- Depth: approx. 4.5 cm
- Total length of the shoulder strap: approx. 143 cm
- Weight: about 170g
The above specifications may vary slightly from copy to copy.
Stock:

In Stock

Model:

2627

SKU:

1616619500