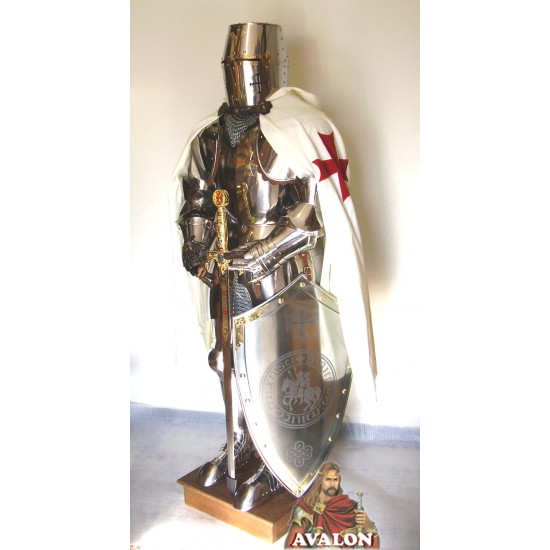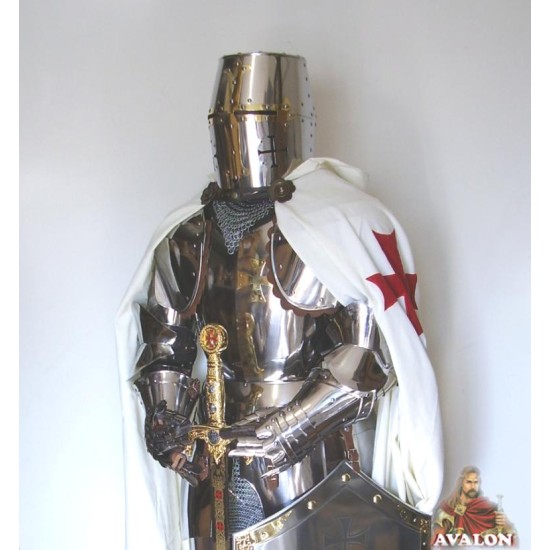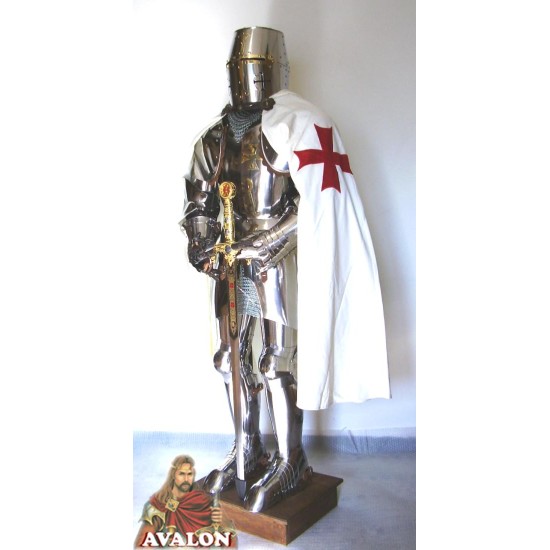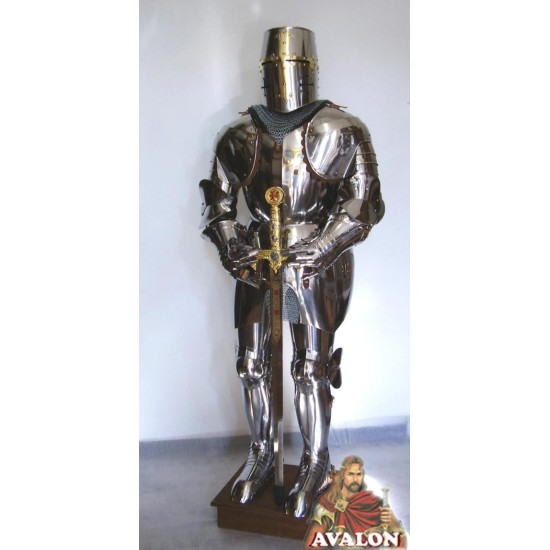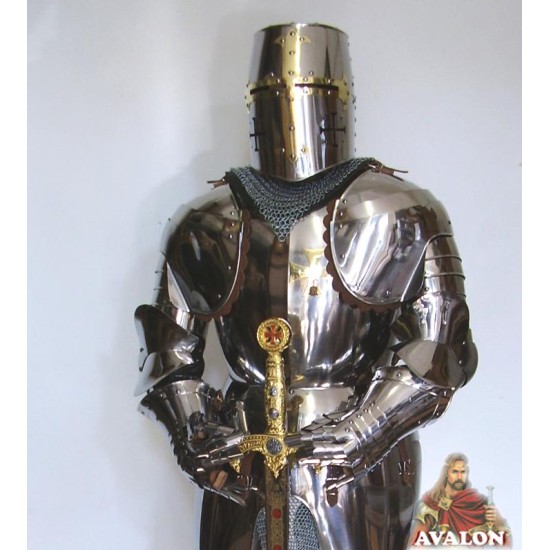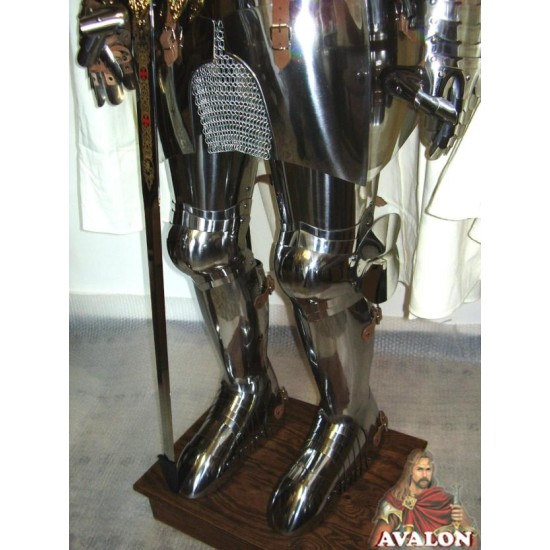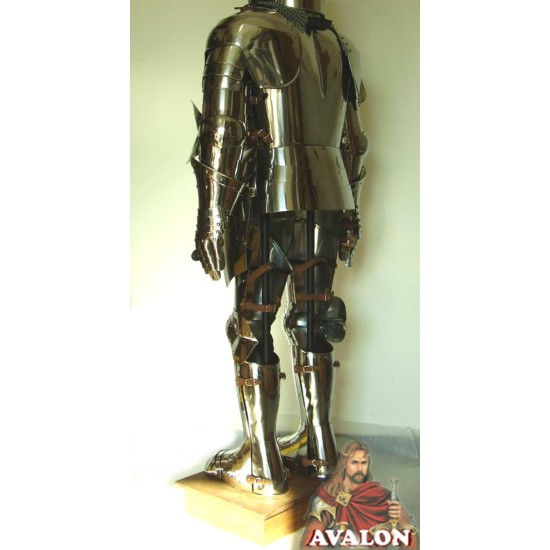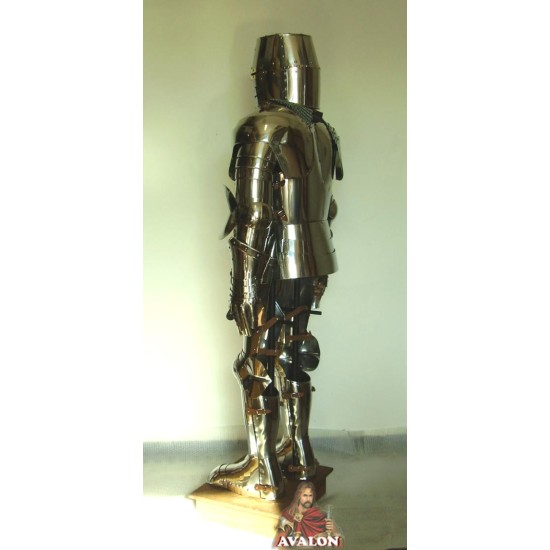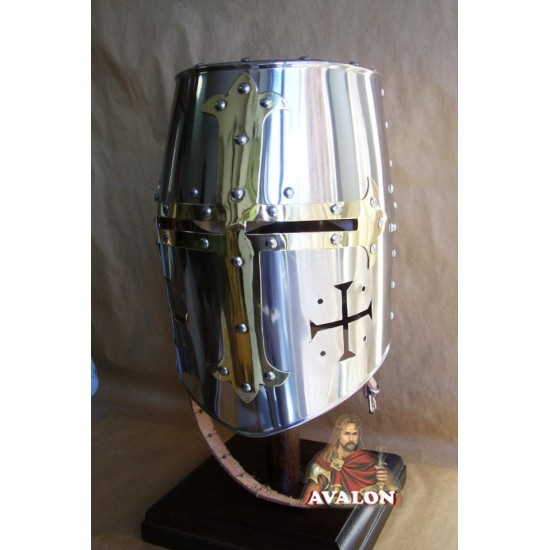 -22 %









Templar Armour
Functional and wearable Medieval Templar Knight Armor, it is a true piece of Armor of rare beauty. Reproduction of a functional Templar armor takes up the models of the fifteenth century that recall the symbolism of the Templars, both in the pan helmet generally used by the Crusaders in the Holy Land and in the decorations of the armor of the helmet rich in crosses and Templar symbols. Medieval Templar Armor, Medieval Templar Knight Functional Armor. Complete set that you see in the photos containing several options. All the items you might need for your knight's armor are included in the price.
The armor of the Knights Templar is made entirely of stainless steel with brass inserts and is mounted on an elegant wooden support (the photos on display are in the stainless steel version).
The Templar armor consists of:
- Templar helmet - Templar cross helmet that offers full head protection.
- Gorget of chain mail.
- Embossed shoulder straps for shoulder protection, this piece of armor covers the shoulders and is anchored to the breastplates by means of leather straps and buckles.
- Medieval armor weapons, typical of 15th century armor. Let the arm bend, but it must also be able to turn around.
- Functional medieval breastplate, those parts of the medieval armor to protect the trunk of the body, such as medieval armor, consisting of breastplate (front and back),
- Left and right two-piece articulated gloves, metal glove (can be replaced with another type of your choice).
- left and right leggings, total leg protection, consisting of the following parts: - thighs or shorts: thigh protection; - knee brace: protection for the knees; - strike: protection of the tibia; - soleret: foot protection (left and right).
- Support and base in wood.
- The Templar armor is functional, not included in the price: Templar sword, shield and cloak sold separately on request.
Knight armor characterized by a high level of finish. Entirely made in Italy.
This exceptional reproduction of the Medieval Knight Armor is made according to the tradition of the Milanese master craftsmen, who created the originals for the knights who used them during battles or parades. This wearable and articulated Medieval Knight Armor has a satin steel finish, a reproduction of the model of the original medieval armor that can be admired today in the collections of museums around the world.
Details:
- Material: steel from 1 to 1.5mm
- The armor is made to measure, delivery time: 14 working days
On request it is possible to have the Medieval Knight's Armor in stainless steel with a supplement.
All of our medieval armor reproductions and therefore also these medieval armor are faithful historical reproductions of medieval combat armor, can be worn for historical reenactment events and compose your ideal armor. Armours worked manually, they adapt to different sizes, thanks to leather straps, adjustable external buckles, they can be made to measure. These are hand-forged armor with steel blades and with ancient production processes, such as bending and polishing, the thickness is at your choice.
---------------------------
Stock:

In Stock

Model:

735

SKU:

B735