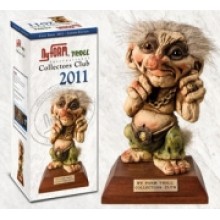 The great success of the Troll in the world has prompted the Norwegian parent company to set up in 1997, with the collaboration of international distributors, the Troll Club This initiative has enabled thousands of collectors to have everything in its collection a Troll particular. Yes, it is true that every troll is unlike any other, but we know that the Troll Collectors are also numbered and limited edition products.



Each year the molds which are produced Troll collectors are destroyed, just to ensure that they remain unique and never reproduced. So over time these cute friends become increasingly valuable, fueling the passion of many collectors.



But this is not the only thing that makes it attractive, the Troll of the year: every time you purchase the Troll in its original box, we can not wait to know what the surprise waiting for us, because with the trolls are inserted different gifts each year.