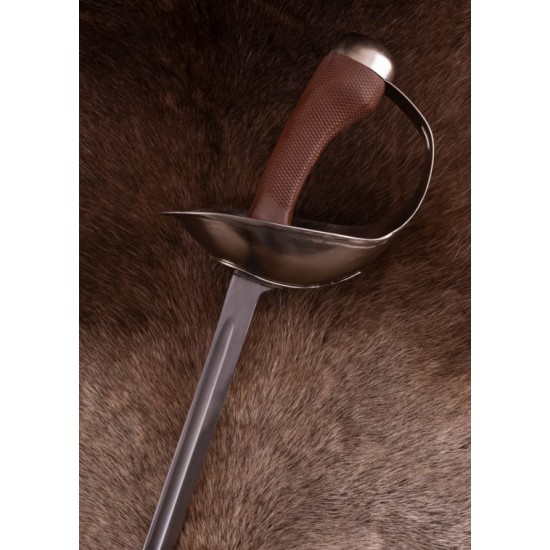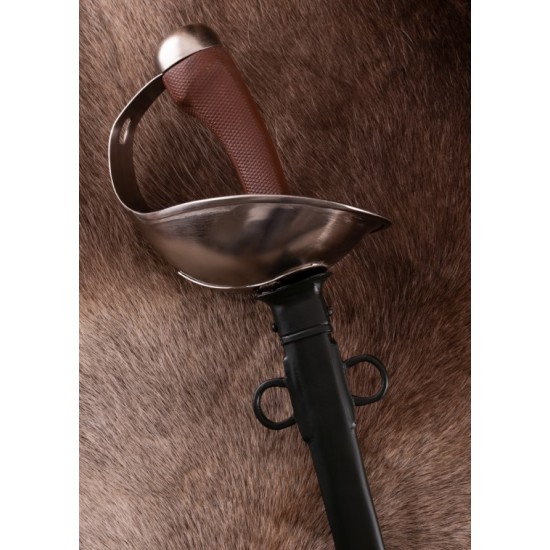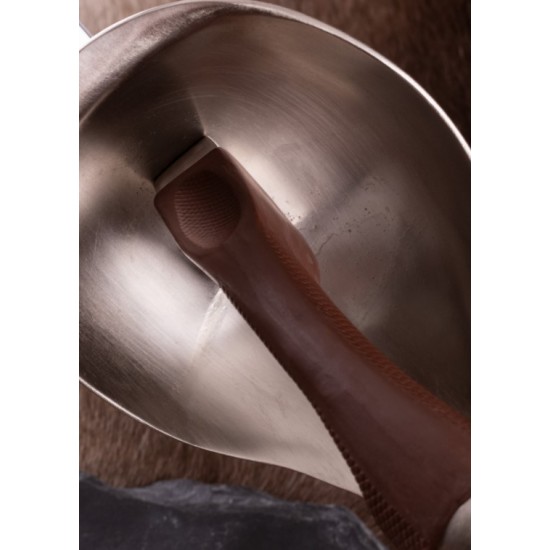 New


British cavalry sword
British cavalry sword from 1908 with scabbard
The 1908 Cavalry Sword was the last service sword to be issued as standard equipment to the cavalry troops of the British Army - at a time when attacks on horseback had become largely obsolete and swords were rarely used as combat weapons. However, it was widely considered the best cavalry sword ever designed and was still in use during World War I.
The 1908 model and the more sophisticated 1912 model for officers are still used today as the ceremonial sword of the British, Australian and Canadian cavalry regiments.
Although this lightweight sword could still deliver effective blows, it was clearly designed primarily for stabbing on horseback and could supposedly achieve the reach of a lance when held with the arm fully extended. The long, narrow and rigid blade had a strong, T-shaped spine and a spear-like tip that was sharp on both sides to facilitate both thrusting and cutting.
The generously sized, simple, cup-shaped guard with guard provided excellent protection for the hand, and the sizeable pommel helped balance the blade without compromising the sword's lightness, speed, and maneuverability. In addition, the ergonomically shaped, pistol-like handle with thumb recess and diamond structure ensured good grip and control, and automatically placed the tip in the correct position for the strike.
In addition, the sword could be attached to the saddle or to a belt or bandolier and was therefore easy to carry with you.
The beautiful, inexpensive replica we offer here has a straight, single-edged blade made of EN45 spring steel, which is grooved over about two thirds of its length. The unsharpened cutting edge is approx. 1 mm thick. The guard and pommel are made of steel, and the grip is made of hard-molded plastic to mimic the rubber or Bakelite grips of the original models.
The cavalry sword is delivered with a blackened all-steel scabbard with two carrying rings.
It should be noted that this sword is not suitable for combat use. It is designed as a collector's item or decorative object and is also ideal as a prop, e.g. to complete your costume.
Details:
- Material: Blade made of spring steel EN45 (carbon steel, not stainless), guard and pommel made of steel, handle made of hard-formed plastic
- Total length: approx. 110 cm
- Blade length: approx. 91 cm
- Vessel: approx. 19 cm (handle section including thumb rest approx. 15 cm)
- Max. blade width: approx. 2 cm (tapers to approx. 0.5 cm towards the tip)
- Blade thickness: approx. 6 mm (tapers to approx. 3 mm towards the tip)
- Cutting edge: approx. 1 mm
- Center of gravity: approx. 11.5 cm in front of the guard
- Incl. metal sheath with carrying rings
- Weight without sheath: approx. 1.26 kg
- Weight with sheath: approx. 1.8 kg
The above specifications may vary slightly from specimen to specimen.
The steel used here is not stainless and may show slight signs of corrosion. We recommend caring for the blade regularly, for example with Ballistol, a universal oil that is ideal for preserving steel goods.
Please note:
This item is only sold to people over 18 years old.
Stock:

In Stock

Model:

2651

SKU:

0116348101