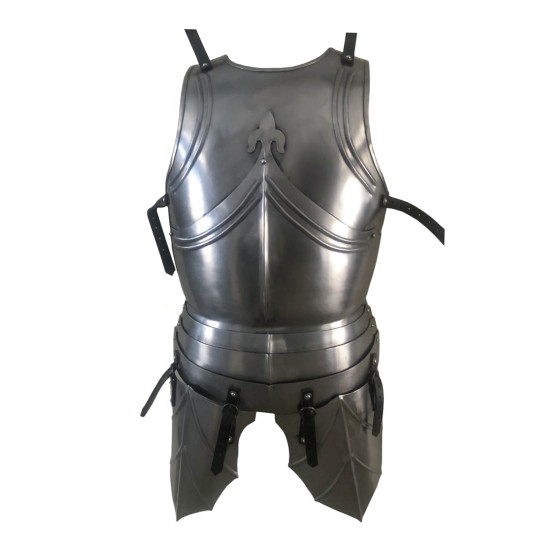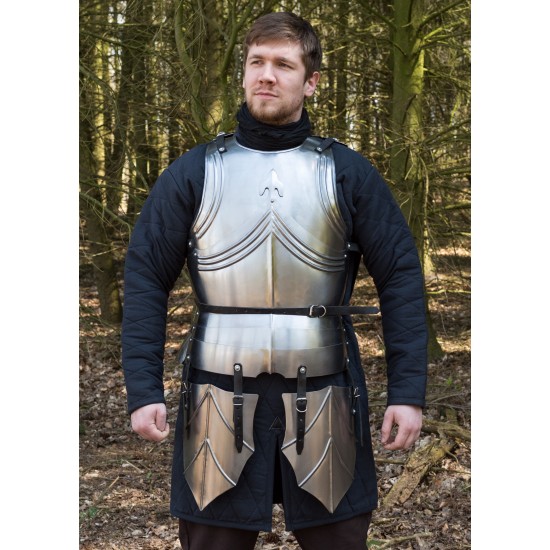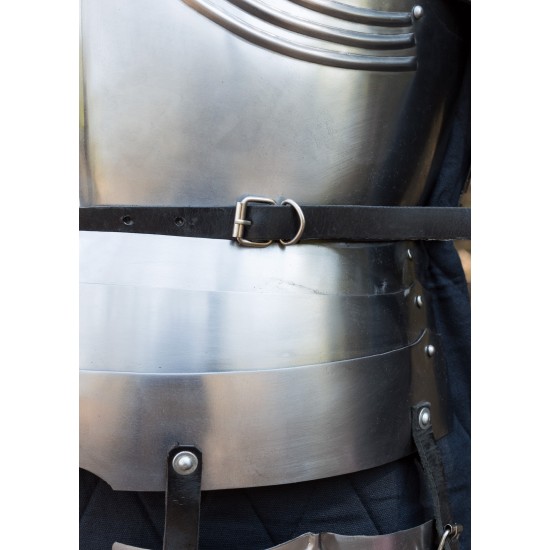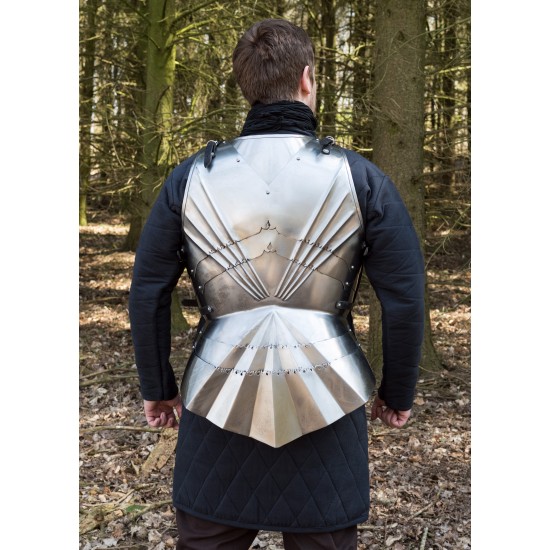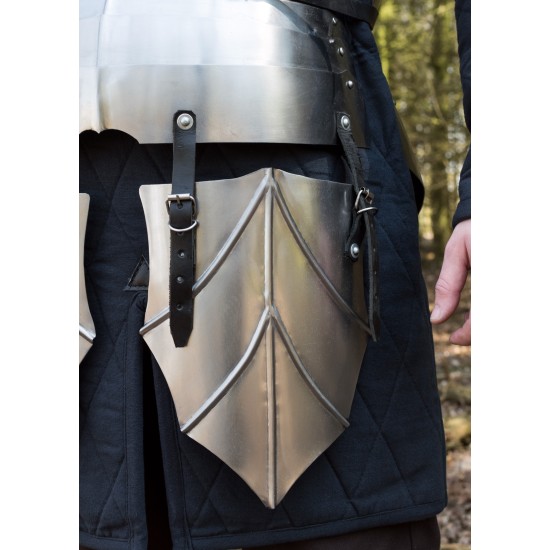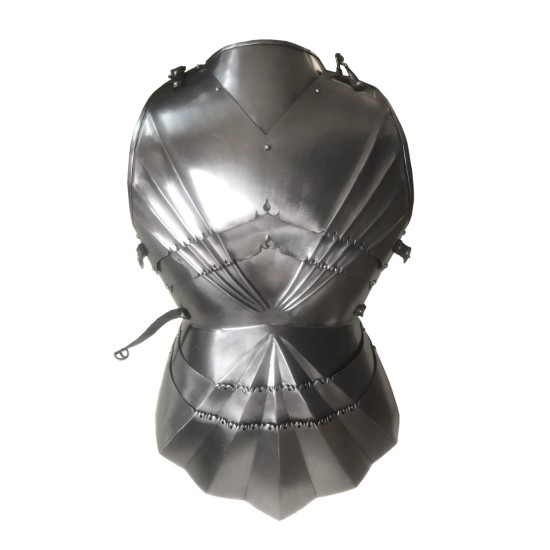 -16 % Unavailable






Gothic armor with leg pockets, 1.2mm steel
Gothic armor with leg pockets, 1.2mm steel
Gothic plate armor, chest and back armor with leg pockets, 1.2mm steel
This elaborate and beautifully detailed replica of late medieval armor is made of 1.2mm (18 gauge) steel and consists of a breastplate, back plate and two leg pockets.
While the pectoral is equipped with three-way (or lazy) belly hoops to protect the hips, waist, groin and abdomen, the beautiful back is complemented by a wide flared butt, which is made up of two shaped wave plates, even one above the other Protect the buttocks. Both the belly rings and the butt are hinged with steel rivets. Both the front and the back show the undulations, filigree cutouts and multi-layered presentation typical of late Middle Ages (15th / 16th century) Gothic plate armor. The inside of the armor is blackened for better corrosion protection.
With this upper body armor, the two halves are attached to each other with 3mm thick adjustable leather straps with steel buckles. So it can be precisely adapted to a large number of dimensions. The straps and buckles are firmly riveted at shoulder height and on the sides of the chest plate and back plate. The two leg pockets (also called tassels) that protect the thighs can also be attached to the lower belly band with sturdy and adjustable leather straps and buckles.
It should be noted that this armor with leg pockets, while fully portable, is not suitable for show combat. However, it is not only a great collector's item, a display object or a decorative object, it is also particularly suitable for the representation of a large number of historical, fictional or fictional characters. Ideal for medieval reenactments, LARP, stage or cosplay, this plate armor will make your transformation into a proud, noble knight or warrior just perfect.
Details:
- Material: 1.2mm (18g) sheet steel, leather straps, steel buckles
- Total length with lap / butt band: front approx. 61 cm, rear approx. 73 cm
(without leg pockets, measured from the highest point of the shoulder)
- Leg pockets (L x W): approx.29 x 23 cm
- Chest circumference: approx. 120 cm (for a snug fit) to max. 140 cm
(adjustable with straps and buckles)
- Neckline (diameter): about 18cm
- Weight: about 9 kg
The above specifications may vary slightly from item to item.
Note that:
To make sure the harness is the right size for you, remember to take your measurements with a gambeson (and / or any other clothing or chain material you want to wear underneath)!
Delivery time: 5 working days
Stock:

Unavailable

Model:

2479

SKU:

1016632908