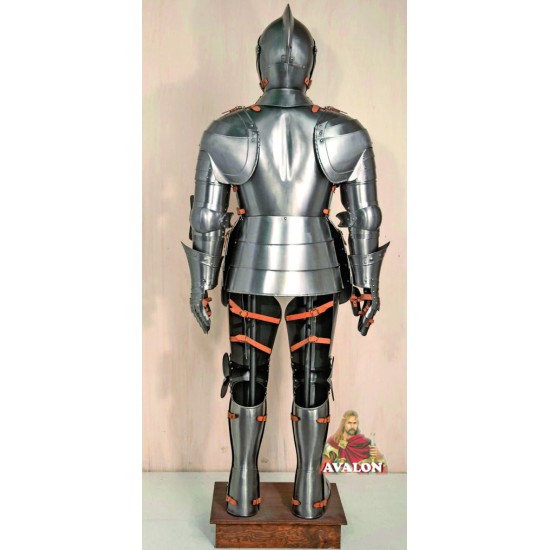 best seller -21 %


Medieval Knight Armor Functional
Medieval Knight Armor completely portable and functional. Medieval Knight Armor includes all parts of the armature, which are shown in the image. Medieval Armour consists of the following parts:
1 - Bascinet Helmet, helmet closed manually made ​​of carbon steel pieneamente wearable, used the heavy cavalry in the Late Middle Ages (thickness to choose from: 1 - 1.2 mm). We propose a series knight helmets, helmets are a bascinet with visor. These particular models bascinet have a double visor and a bevor hinged on both sides via cinchie leather and buckles, and then disassembled. When the helmet is worn, face shields cover the entire face, the first visor has slits for the eyes, while the second peak of this ventilation holes. This design is ideal for combat but also for parades of medieval re-enactment.
2 - Bevor included in the helmet to protect the chin and throat.
3 - Cuirass, part of medieval armor to protect the chested and back, formed by the Breastplate and back armor. The armor is made on your measurements, specify when ordering (chest circumference at the level of the breast, total height and weight.
4 - Pauldron, Shoulder, to protect the shoulders, This piece of armor covers the shoulders, the shoulder straps are anchored to the cuirass by means of interlocking and leather straps.
5 - Medieval Full Arm Armor Consists of three parts: Vambrace (protection of the forearm), Couter with side wing (elbow protector), the Rerebrace (articulated more plates). Are articulated together by hinged plates, arched and fixed by rivets sliding. Possibility to choose among four models, Art: B001- B002 - B003 - B004.
6 - Articulated Gauntlets, medieval protective gloves to protect the hand and wrist. Possibility to choose between six models of gloves gauntlets Art: B100 - B101 - B102 - B103 - B104 - B105.
7 - Cuisses, Poleyn, Greaves, Knee Cops, elements of armor to protect the leg, articulated so as to give maximum mobility to combatant
8 - Medieval Combat Armor Sabatons, shoes steel articulated. the shoes are made of cold rolled steel. Possibility to choose between six models of gloves of sabatons, Art: G130 - G131 - G132 - G133 - G134 - G135.
Entirely made of steel and hand-crafted by artisans in Italy, with coietti leather to be worn.

Made of steel and fully wearable handmade comes with support and wooden base.
This exceptional reproduction of Medieval Knight Armor is crafted in the tradition of master craftsmen the Milanese who created the originals for knights fighters. This wearable articulated Medieval Knight Armor has a brushed steel finish, reproduction the model of the medieval armour originals that can be seen today in museum collections around the world.
All of our reproductions of medieval armor and then also this Medieval Knight Armorr are faithful reproductions of historical medieval armor for combat, can be worn for special events, historical re-enactment to compose your armor ideal. Armor handcrafted, and fit various sizes, using leather straps with buckles external adjustable, can be custom made. They are armor forged by hand by steel plates with processes not modern, such as the fold and polishing, the thickness can be selected from the following measures: 19 ga -18 ga (1 - 1,2 - 1,5mm).
The medieval armor during the Middle Ages and the Renaissance have undergone many changes, because in the Middle Ages the art of making medieval armor was highly developed, the various knights and nobles of the time had developed his own style in the armor, as if they participate in a competition well as military also style. And it is for this reason that in the section medieval armor is so large and full of different styles. This armor is produced in Italy, faithful to the ancient artisan tradition of Italian gunsmiths, from the Middle Ages that has been passed down from generation to generation and has come down to us.
We are the only ones who have inherited the ability to produce armour high bill, from the point of view of functionality, ensuring maximum comfort and protection in combat, an outstanding product from the point of view of art and affordable, lowering the cost of intermediaries commeciali, with the ability to customize the medieval armor to the your measurements.
In the Middle Ages there was in Italy a major center for the production of armor, where skilled craftsmen created armor for knights in combat, and they used in ceremonies and parades. The first to make a knight armor were Italian craftsmen gunsmiths in the Milanese, over the centuries, followed by German craftsmen and French who added decorations in relief. Observe the difference in detail between this armor produced in Italy and other developed elsewhere, there is no comparison.
Details:
- Material: 18 ga -19 ga (1,0 - 1,2 - 1,5mm) steel.
- Size: customizable
- Weight: approx. 77 lbs 1.2mm armor (35 kg).
- Production time: 14 - 21 working days.
All our armors are handmade and made to measure, by expert blacksmiths and Italian craftsmen, who have handed down this art for generations.

Stock:

In Stock

Model:

1058

SKU:

1058