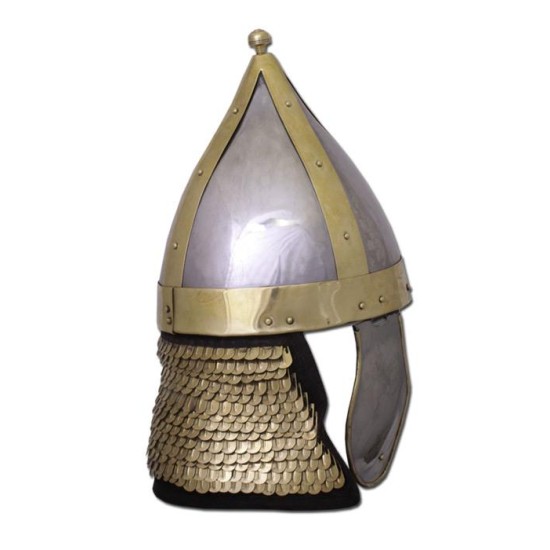 best seller

Roman Archer's helmet
Roman Archer's helmet, our version is made from steel with brass brackets. The neck guard is made from brass scales mounted on suede leather. The jowl flaps are also made from brass.
Many ancient reliefs show Roman army archers (mainly recruited in the eastern oriental provinces) equipped with cone-shaped Spangenhelmets.
High-class adjustable leather liner with chin-straps is included. Wearable
Details
- suitable for head circumference up to 60 cm
- long distance (back to front): approx. 21 cm
- short distance (ear to ear): approx. 18.5 cm
- weight: approx. 2.1 kg
-------------------------------------------
History
The Auxilia (Latin, lit. "helps") constituted the standing non-citizen corps of the Imperial Roman army during the Principate era (30 BC–284 AD), alongside the citizen legions. By the 2nd century, the Auxilia contained the same number of infantry as the legions and in addition provided almost all of the Roman army's cavalry and more specialised troops (especially light cavalry and archers). A substantial number of auxiliary regiments (32, or about 1 in 12 in the 2nd century) were denoted sagittariorum, or archer-units (from sagittarii lit. "arrow-men", from sagitta = "arrow"). These 32 units (of which 4 were double-strength) had a total official strength of 17,600 men. All three types of auxiliary regiment (ala, cohors and cohors equitata) could be denoted sagittariorum. Although these units evidently specialised in archery, it is uncertain from the available evidence whether all sagittariorum personnel were archers, or simply a higher proportion than in ordinary units. At the same time, ordinary regiments probably also possessed some archers, otherwise their capacity for independent operations would have been unduly constrained. Bas-reliefs appear to show personnel in ordinary units employing bows.
Stock:

In Stock

Model:

1405

SKU:

1405

UPC:

1716671200