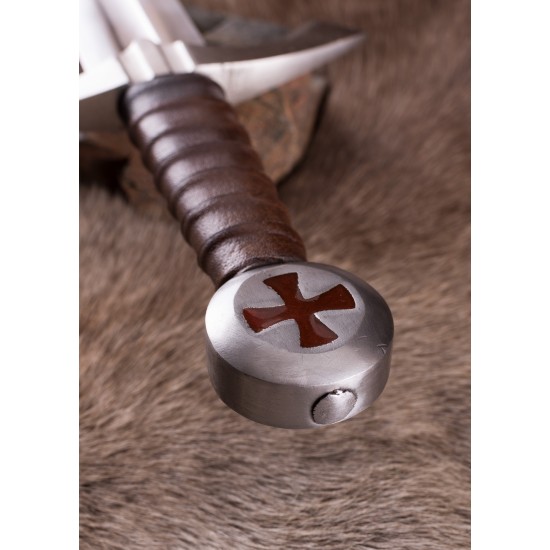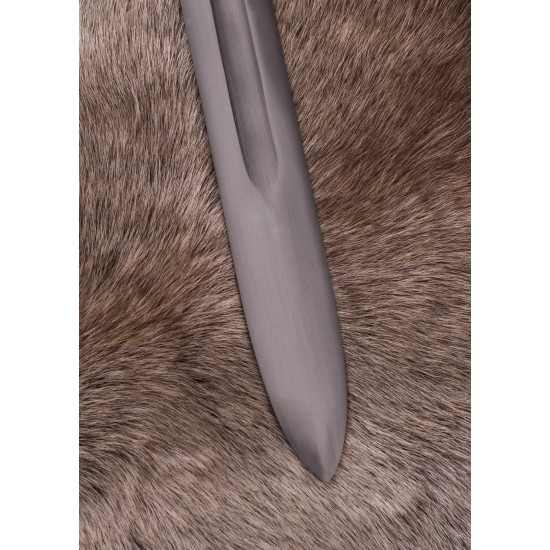 -7 %
Scottish Templar sword, with scabbard
Scottish Templar sword, with scabbard
This decorative Knights Templar one-handed sword has a double-edged blade made of EN45 spring steel with a wide, long fuller. The cutting edges of this one-handed sword are not sharpened. The end-to-end blade tang is riveted to the pommel and the handle with a wooden core is beautifully wrapped in brown leather. The approx. 17 cm long crossguard and the generous pommel are both made of steel. The pommel is decorated on both sides with a red enamelled Templar cross - also known as a paw cross.
The high medieval crusader sword is supplied with a brown wood/leather scabbard with locket, chape, middle strap and movable steel carrying rings.
It is pointed out that this sword is not battle-ready. It is designed as a collector's item or decorative object and is also ideal as a prop, e.g. to complete your costume.
Details:
- Material: blade made of spring steel EN45 (high carbon steel, not stainless), guard and pommel made of steel, grip made of wood with leather wrapping
- Total length: approx. 96 cm
- Blade length: approx. 78 cm
- Blade thickness: approx. 4.5 mm (cutting edges approx. 1 mm)
- Handle length: approx. 19 cm (handle section approx. 11 cm)
- Max. blade width: approx. 4.6 cm
- Center of gravity: approx. 16 cm in front of the guard
- Includes wooden scabbard with genuine leather cover and steel fittings
- Weight without sheath: approx. 1.5 kg
- Weight with sheath: approx. 2 kg
The specifications above may vary slightly from copy to copy.
The steel used here is not stainless and may show slight signs of corrosion. We recommend that you regularly care for the blade and sheath, e.g. with Ballistol, a universal oil that is ideal for preserving steel goods.
Please note:
This item is for sale only to persons over the age of 18.
Stock:

In Stock

Model:

2514

SKU:

0116328810