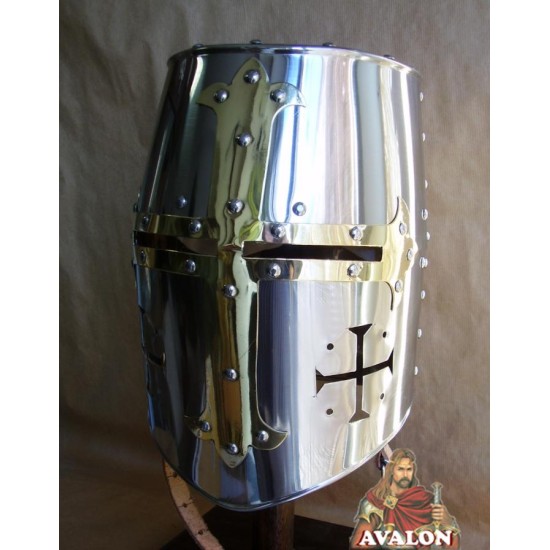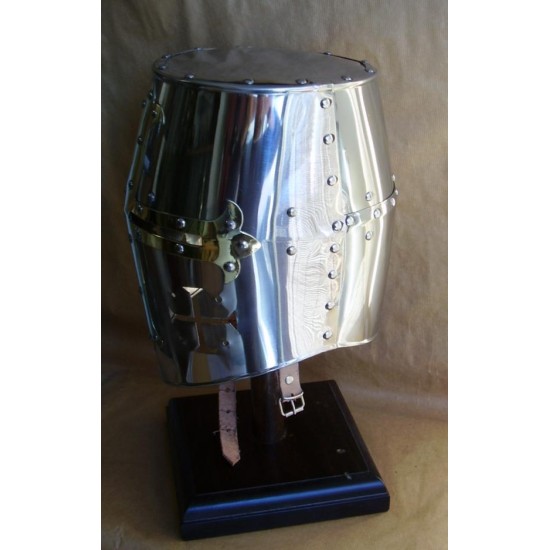 best seller



Templar Helmet - stainless steel
Templar Helm - Combat Helmet
Templar combat helm, Medieval Great Helm cylindrical shape, composed of a metal plate, on the top is riveted an ovoid disc. Templar helmet from the 13th-14th century, complete protection of the head.
Templar combat helm made by hand in fully endorsable carbon steel, used by heavy cavalry in the Middle Ages (thickness of your choice: 1mm - 1.2 mm - 1,5 mm).

For maximum comfort, the helmet is equipped with interior trim (padded leather padding) and chin strap (chin strap).
This form of Templar Helmet is ideal for combat but also for medieval reenactment parades.

the photo refers to the stainless steel helmet

Medieval helmets underwent a lot of modifications during the Middle Ages, because in the Middle Ages the art of producing armor was very evolved, the various knights and nobles of the time had their own style in armor, such as if they were participating in a style competition in addition to participating in a military competition. It is for this reason that the medieval helmets section is so vast and rich in different styles. These medieval helmets are produced in Italy, faithful to the ancient artisan tradition of the Italian gunsmiths which, from the Middle Ages, has been passed from generation to generation to arrive to the present day. We are the only ones able to offer you a wide range of high quality medieval helmets from the functional point of view, to guarantee you maximum comfort and good protection during combat, an exceptional product from an artistic point of view at an attractive price since we do not use commercial intermediaries, with the addition of the possibility of customizing medieval helmets to your measure.

Stock:

In Stock

Model:

1348

SKU:

E383inox