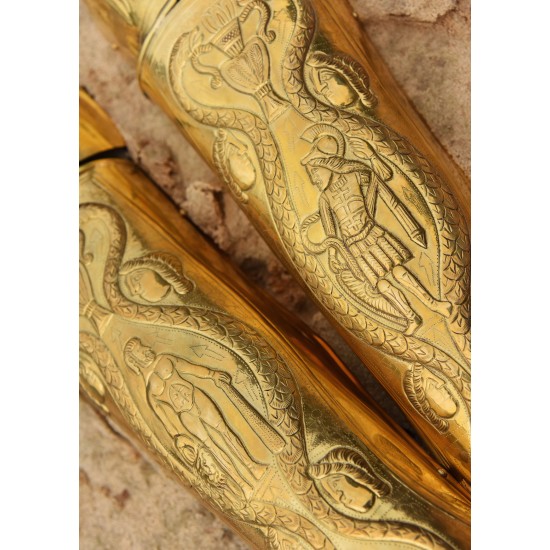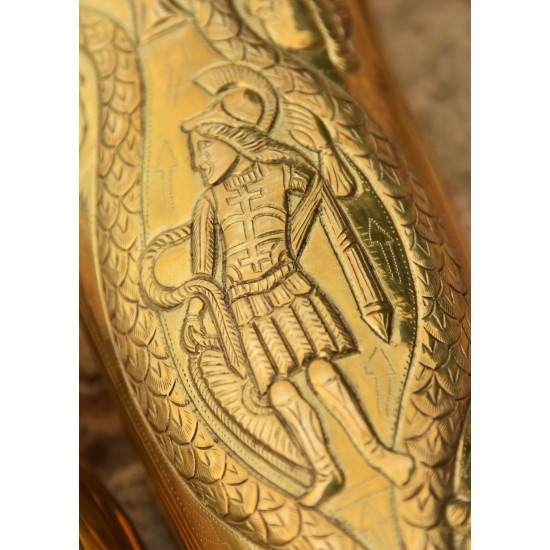 -9 %



Greaves of the Praetorian Guard in stamped brass, pair
Greaves of the Praetorian Guard in stamped brass, pair
The Praetorian Guard was originally formed around the 3rd century B.C. Founded as a guard of the generals of the Roman Republic. Deployed both in camp and in battle, the Praetorians served as a last reserve force against attacks on commanders during campaigns. In the Roman Empire, this hand-picked elite unit served as the emperor's personal bodyguard. Its members were the only armed soldiers allowed within the walls of Rome, and they enjoyed higher pay and shorter tenures than ordinary legionnaires. Eventually the Praetorian Guard was disbanded by Emperor Constantine the Great in the 4th century AD.
The movable, fully wearable Roman leg guards that we offer here are made of approx. 1 mm thick brass and blackened on the inside. The shins and knee humps are connected to each other by means of hinges and thus offer the necessary freedom of movement. The greaves are lined with three brass eyelets on each side and are tied with square, 3 mm thick leather straps that can be used to adjust the desired size. The straps are included.
This beautiful Roman leg harness is decorated with elaborate embossing: While one rail is decorated with a soldier of the guard and snake creatures, Hercules - also framed by snakes - can be seen on the other rail. Both knee humps show the Roman eagle.
An ideal accessory for Roman reenactment, LARP or stage, which will make your transformation into a proud warrior look even more authentic.
Details:
- Material: approx. 1 mm thick brass, leather straps
- Total length: approx. 59 cm (40 cm without knee hump)
- Width of opening at calf: approx. 13 cm
- Width of the ankle opening: ca. 9 cm
- Dimensions knee hump: approx. 17 x 16.5 cm
- Weight (pair): approx. 2.44 kg
The above specifications may vary slightly from copy to copy.
Stock:

In Stock

Model:

2521

SKU:

1016637600
Tags:
roman
,
greaves
,
gladiator
,
Praetorian
,
Guard
,
in stamped brass
,
pair
,
the
,
praetorian
,
guard
,
2521