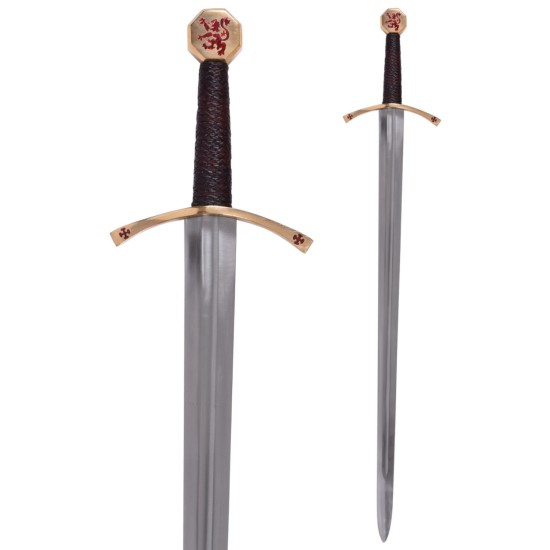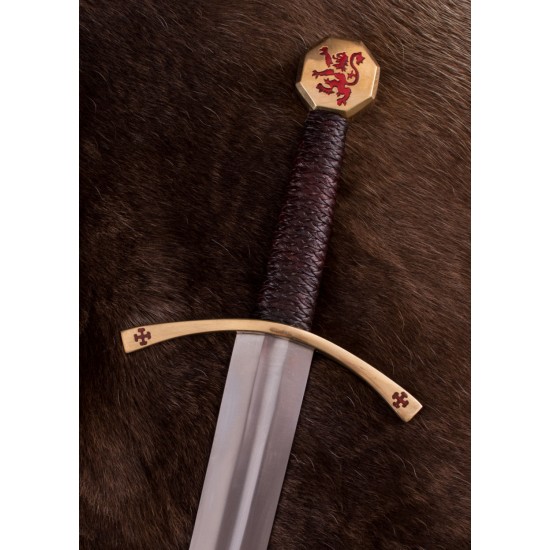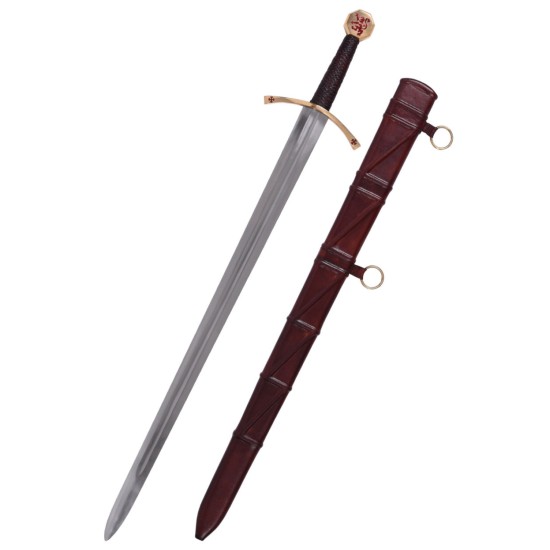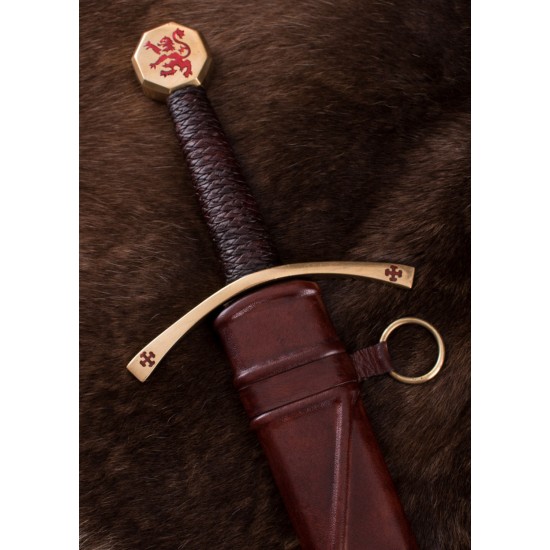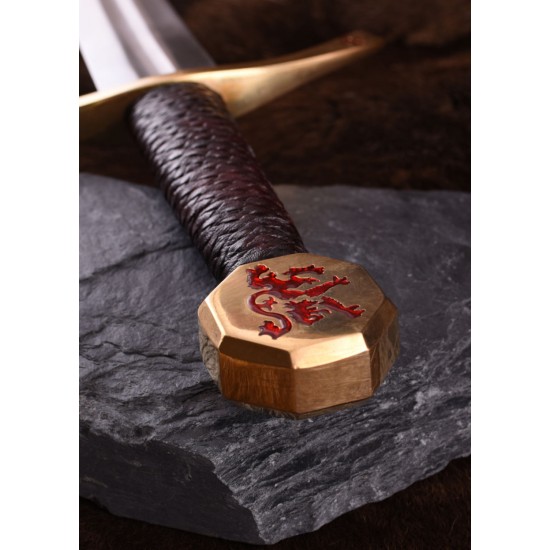 -12 %





Bruce Sword Medieval One-Hander
Bruce Sword, Medieval One-Hander with Scabbard
Named after Robert I of Scotland (1274-1329), commonly known as Robert the Bruce, this one-handed sword is not a reconstruction of this famous Scottish warrior's weapon but rather an homage to his great deeds and legacy. In 1314, after years of campaign against the English crown, King Robert defeated the army of Edward II of England at the Battle of Bannockburn, a decisive battle which ultimately led to the re-establishment of Scottish independence. Just like the legendary William Wallace, Robert the Bruce remains one of Scotland's most celebrated historical figures to this day.
This decorative single-handed arming sword features a double-edged EN45 spring steel blade with a long, broad fuller. The edges are not sharpened and the blade's full tang is threaded to the pommel. The hilt is composed of a slightly downwardly curved crossguard, a thick octagonal pommel (Oakeshott type I1, most popular in the 14th c.) and a wooden core grip elaborately bound in braided brown leather.
The guard and pommel are both crafted from solid brass and inset with bright red enamel details. While the quillon ends are adorned with crosses, the pommel features a so-called lion rampant (an heraldic depiction of a lion standing erect with its forepaws raised as if to strike a blow) which is highly reminiscent of the coat of arms of King Robert I of Scotland – a crimson lion rampant set against a yellow background.
This high medieval knightly sword comes complete with a brown wood-and-leather scabbard with two brass carrying rings.
Please note that this medieval sword is not a battle ready weapon. It is designed as a collector's or decoration/display piece and is not suited for combat reenactment. Besides its quality as a collectible, it is also perfectly suited as a prop, e.g. to complete your costume, and will make your transformation into a proud knight or noble king just perfect.
Details:
- Material: EN45 spring steel blade (high carbon steel, not stainless), brass guard and pommel with red enamel details, leather-wrapped wooden handle
- Overall length: approx. 96.5 cm
- Blade length: approx. 78.5 cm
- Blade thickness: approx. 4 mm (cutting edges approx. 1 mm)
- Hilt length: approx. 18 cm (grip approx. 12.5 cm)
- Max. blade width: approx. 4.7 cm
- Point of balance: approx. 13 cm from the guard
- Incl. wooden scabbard with genuine leather cover and brass rings
- Weight without scabbard: approx. 1.1 kg
- Weight with scabbard: approx. 1.5 kg
Specs may slightly vary from piece to piece.
The steel used here is not rust-proof and might show slight surface tarnishing in places. We recommend you to maintain the blade and the scabbard on a regular basis, for example using Ballistol Universal Oil, which is ideally suited for steel care.
Please note:
We do not sell this product to customers under the age of 18.
Stock:

In Stock

Model:

2553

SKU:

0116328000