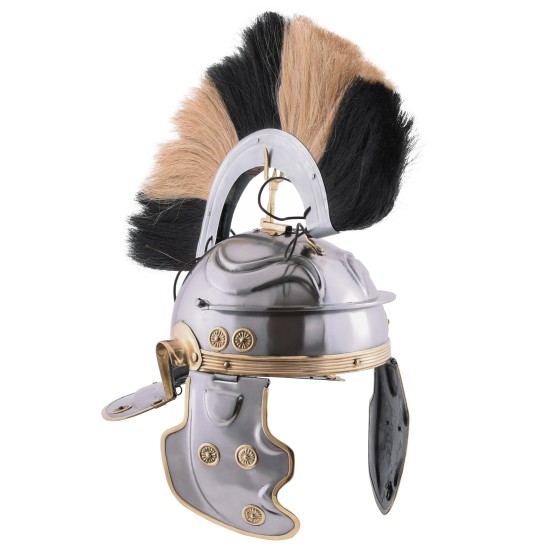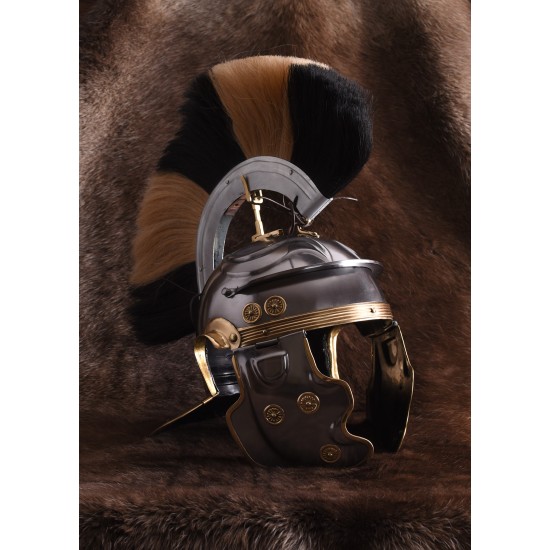 -12 %




Roman helmet Imperial Gallic -G-
Roman helmet Imperial Gallic -G- Weisenau made of steel with crest
This Roman helmet (also known as Galea or Cassis) is a faithful replica of a so-called Imperial Gallic "G" Weisenau type helmet from the middle of the 1st century AD. The remarkably well-preserved original artefact made of iron and bronze was recovered from the Rhine near Mainz-Weisenau and can be admired in the museum in the Andreasstift in Worms.
Characteristic identifying features for this special type of helmet were (amongst others) the sloping neck protection, the pronounced eyebrows, the forehead bracket and the decorative circular rosettes.
This authentic replica of a Roman officer's helmet with movable cheekpieces is made of polished 1.2 mm steel and richly decorated with brass applications.
Since the helmet does not have an integrated lining, it is supplied with a padded cotton hood, which makes it comfortable to wear.
Small rings on the inside of the cheekpieces also offer the option of attaching a chin strap (not included in the scope of delivery).
Presumably reserved for Roman soldiers with special powers within the cohort (such as the optiones, the next-ranking officers after the centurions), the two-tone black and white crista is made of natural horsehair.
The plume can be properly attached to the Roman helmet with the supplied brass bracket.
Details:
- Material: 1.2 mm steel with brass fittings, real horsehair plume with steel frame and leather cord, 100% cotton padded hood
- Suitable for a head circumference of up to approx. 61 cm
- Long inner distance (back of head to forehead): approx. 21.6 cm
- Short inner distance (ear-ear): approx. 20 cm
- Weight (only helmet): approx. 1 kg
- Weight with plume and padded hood: approx. 1.5 kg
The above specifications may vary slightly from copy to copy.
Stock:

In Stock

Model:

1400

SKU:

1716606100