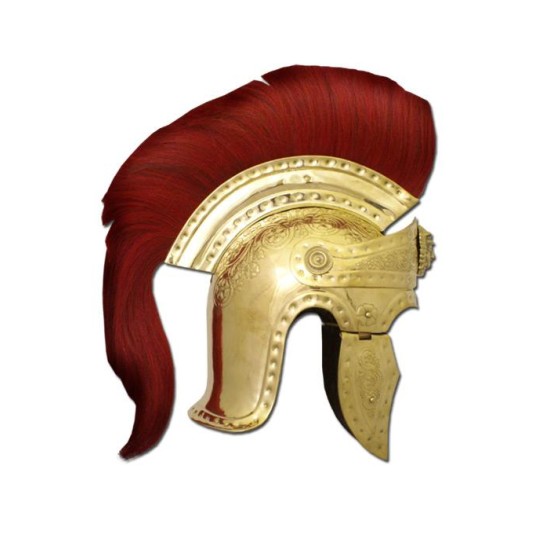 best seller -13 %
Roman Praetorian helmet
Ceremonial helmet of the Roman Praetorian Guard, brass
Forerunners of the Roman Praetorian Guard (the Praetorians for short) were introduced as early as the Republican era.
The troops were later increased and expanded by the Roman emperors.
The praetorians served the emperors as security guards and bodyguards and were often used domestically to secure control.
Unfortunately, no original helmets have been found so far.
This helmet version is based on the numerous, well-preserved illustrations of Roman stone reliefs and is authentically based on them.
Manufactured from sheet brass with richly decorated ornaments, this helmet is a real showpiece, just as it was then.
He has two brass cheekpieces and a red horsehair crest. In addition, the helmet has an adjustable leather liner.
Details:
- Material: approx. 1 mm thick brass, horse hair and leather inlay
- Size: suitable for a head circumference of up to approx. 64 cm
- Long distance (front to back): about 23.5 cm
- Short distance (ear to ear): about 19 cm
- Weight: about 2.65kg
Stock:

In Stock

Model:

2288

SKU:

1716621000