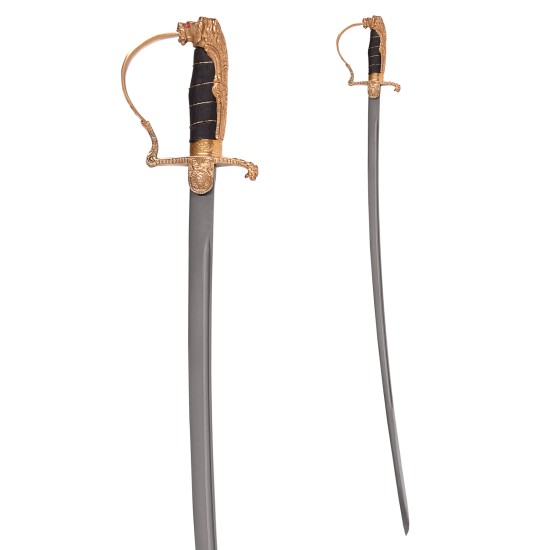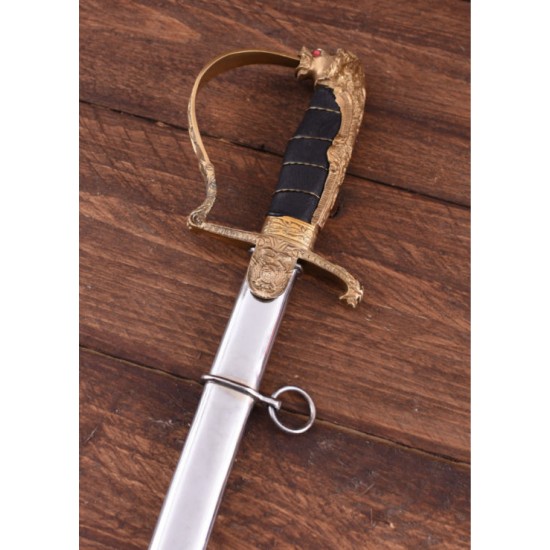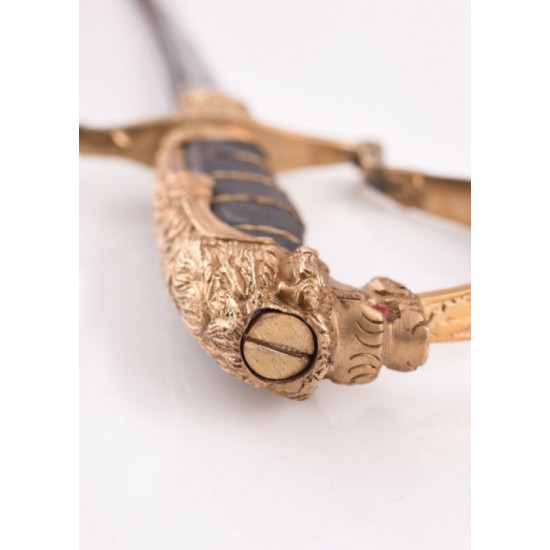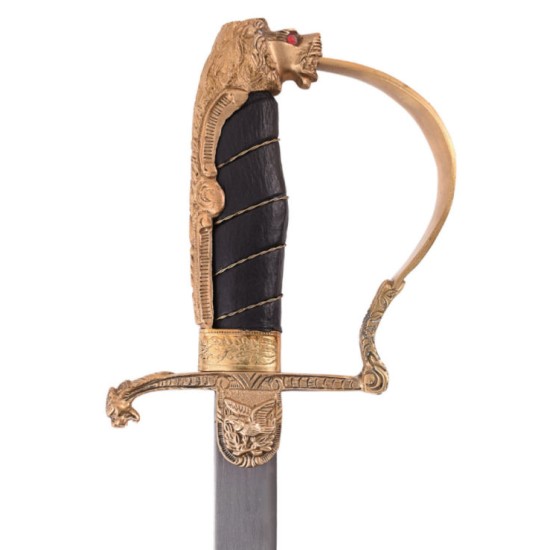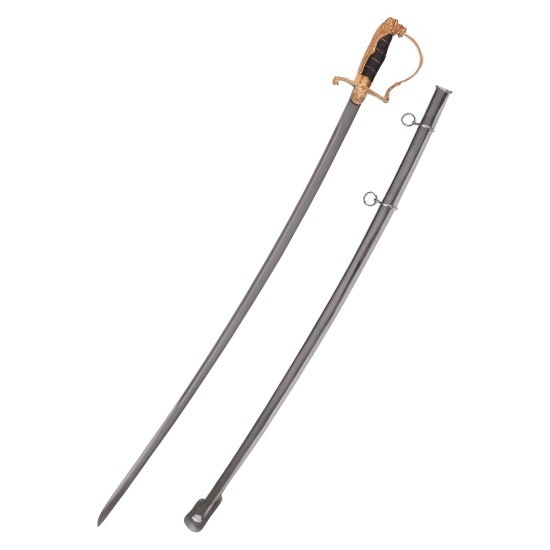 -15 %





German lion's head saber
German lion's head parade saber, officer's saber with steel scabbard
A German parade saber - also known as a lion's head saber due to its special pommel shape.
Sabers with a lion's head pommel were a standard part of the uniform of officers in the Prussian and German military. They were represented in many variations and were still used by the higher ranks of the German army in both world wars of the 20th century.
The slim, slightly curved blade made of EN45 spring steel is not sharpened and has an approx. 54 cm long fuller. The blunt striking edge is approx. 1 mm thick and the end-to-end blade tang is screwed to the end of the handle.
The hilt consists of a handle with a handle cap and a handle connected to the crossguard. The pommel is in the shape of a lion's head with two set ruby red eyes, and the back and ferrule are decorated with an opulent floral pattern. The richly decorated, open guard emerges from the lion's mouth and merges into the equally lavishly decorated guard. This has elaborately designed guard flaps and ends with a downward-curved guard pin in the shape of a lion's head. The grip section with a wooden core is wrapped in leather and brass wire. The shackle, the lion-headed grip cap, the back of the grip, the ferrule and the quillons including the quillons are all made of brass.
The gala saber comes with a matching sheath made of nickel-plated steel with two ring bands, movable carrying rings and a metal end piece.
This German saber with a lion's head pommel is not suitable for combat, but a very decorative collector's item that is also ideal as a prop, e.g. for the theater.
Details:
- Material: EN45 spring steel blade (high carbon steel, not stainless), brass hilt with wire-wrapped wood and leather handle
- Total length: approx. 94.5 cm
- Blade length: approx. 81 cm
- Max. blade width: approx. 2.2 cm
- Blade thickness: approx. 4 mm
- Impact edge: approx. 1 mm
- Handle length: approx. 13 cm (handle section approx. 8 cm)
- Incl. metal scabbard with carrying rings
- Weight without sheath: approx. 700 g
- Weight with sheath: approx. 1 kg
The specifications above may vary slightly from copy to copy.
The steel used here is not stainless and may show slight signs of corrosion. We recommend that you regularly care for the blade and sheath, e.g. with Ballistol, a universal oil that is ideal for preserving steel goods.
Please note:
This item is for sale only to persons over the age of 18.
Stock:

In Stock

Model:

1540

SKU:

0116313200